New Patients at Alignwell Chiropractic and Movement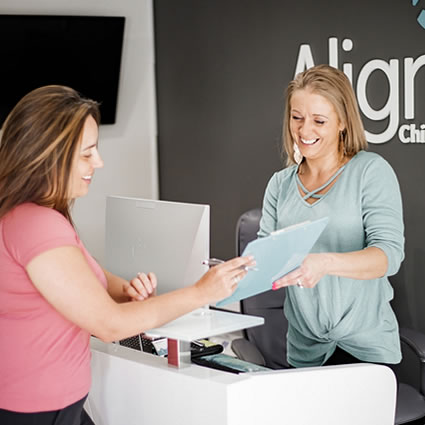 Preparing for Your First Appointment
We'll send you online paperwork in advance, so we can get started right after you get here. Feel free to wear whatever you like when you come see us.
The First Appointment
When you first walk in, our office manager, Naomi, will welcome you with love and excitement. After that, it's all about getting to know your story so we understand what's going on. Dr. James will listen intently and ask questions to find out where you've been feeling pain and how it has affected your daily life.
From there, we want to narrow down what's impacting you the most, so we can restore the whole body while focusing on your wellness goals. We'll do a posture analysis, palpation, and functional movement analysis to check for muscle imbalances. Unlike most chiropractors, we add digital X-rays to see how the parts of your spine work together, just like a mechanic looking at how the different parts of an engine are performing.
For most patients, we'll give the first hands-on adjustment that same day. We know you need some pain relief as soon as possible.
Before you leave, we'll talk with you about your insurance and gather information to help determine the most beneficial financial route for your care. This first visit usually takes about 45 minutes, since we make time to discuss your situation, do a thorough evaluation, and begin with care.
The Second Appointment
After your first visit, Dr. James sits down and looks over the X-rays to piece everything together. The next time we see you, we'll go over the X-rays with you in detail and come up with a plan of care to get you back to where you want to be.
In addition to giving your second adjustment, we'll also go over your insurance to make sure you understand your benefits and are getting the most out of your coverage. This appointment takes about 30 minutes.
Start Your Wellness Journey Today
We want to hear your story, so we know what you're up against and how we can help. Book with us today.
CONTACT US »
---
New Patients at Alignwell Chiropractic and Movement | (603) 643-7800