Meet Naomi Severance, Office Manager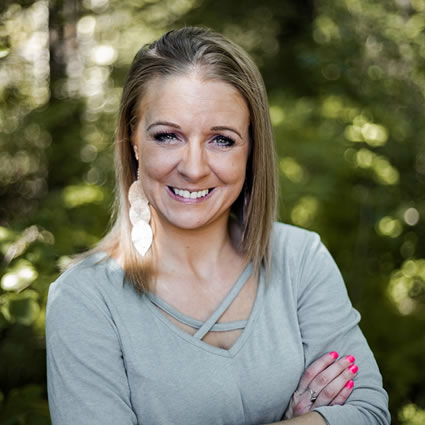 Naomi Severance takes care of the details while bringing love and joy into our patients' lives. Naomi worked as a preschool teacher. Dr. James, one of her student's dads, knew she had the warmth and energy Alignwell Chiropractic and Movement needed.
She started as the receptionist, then moved up to office manager. Soon, Naomi had added billing and insurance to her skill set, learning all the ins and outs so she could coach patients to get the most out of their benefits and plans.
Putting a Fun Spin on Professionalism
A self-described mama bear, Naomi showers every patient with personal attention so you feel at home. She's the first person you'll talk to on the phone, and the first smile you see when you walk in the door.
She takes the time to answer any questions you have, from scheduling to finances, but also brings in a little humor. Naomi makes sure everyone feels comfortable to help you enjoy your time at the clinic.
EXPLORE CHIROPRACTIC »

Making Visits Easy
for Parents and Kids
Naomi has turned the waiting room into a playroom for kids. She encourages parents to bring their children in, because she enjoys kids' company. Naomi has set up a kids' table and a chest of toys for them to play with while they wait. At the end of an appointment, they visit the treasure chest to pick up a prize for good behavior.
Tackling Life with Skill and Passion
A Vermont native, Naomi loves spending time with her son outdoors. In her free time, she enjoys baking, cooking, canning, fishing, and hiking.
Naomi graduated from CCV in 2017 with a A.S in Early Childhood and from Northern Vermont University in May 2023 with her second degree in business. Someday, she dreams about opening her own business.
No need to worry, though—she plans to keep hanging out with Dr. James for a long time. She loves her patients and helps them navigate the interesting ins and outs of insurance coverage.
Connect with Us Today
We'd love to add you to our patient family. Book an appointment now, and let's address your pain together.
---
Naomi Severance | (603) 643-7800